Ernest and the BIG Itch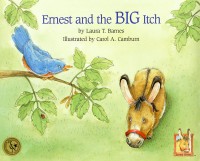 Chipper grinned.
He realized the furry, little donkey had an itch.
A really BIG itch!
Ernest's itch is so big that it causes an "earthquake" which throws Chipper and his sister's world upside down. The search for a way for Ernest to scratch his itch leads to an amusing barnyard adventure and the beginning of a beautiful new friendship.
Important life lessons about resolving differences, cooperation and the art of making new friends are interwoven in this endearing tale. Have fun looking for the ladybug hidden on every page.
"You don't get any cuter than Ernest. This third in the Ernest Series® follows the adorable donkey as he searches for a way to scratch his enormous itch."
-Nashville Parent
"Endearing characters teach a simple lesson of tolerance, patience and friendship. Children will enjoy searching for the tiny ladybug hidden within each illustration."
-American Library Association, Booklist
"...a wonderful tale about life lessons and cooperation as the whole gang searches for a solution and meets a new friend in the process."
-Ventura County Parent Magazine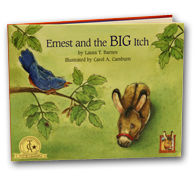 ISBN 978-0-9674681-2-9
32 pages
View other titles