Twist and Ernest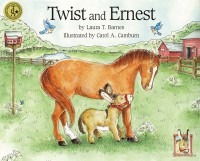 Little Ernest was lonely.
He needed a buddy.
A friend to spend his days with.
When a big beautiful show horse named Twist arrives at the farm, Ernest is sure the friend he was hoping for is here at last! But Twist doesn't want to be bothered by the scruffy, little donkey until Ernest's energy and love win him over.
This heartwarming story teaches lessons about friendship and the importance of not judging others based on appearances and prejudice. Have fun looking for the butterfly hidden on every page.
"A story about friendship that captures the importance of accepting one another regardless of differences."
-School Library Journal
"Highly recommended for school and community library picture book collections for young readers is Barnes' and Camburn's first book, Twist and Ernest."
-Midwest Book Review
"...a small masterpiece that will bring the natural world closer to you and your children."
-Alyson Button Stone, The Daily News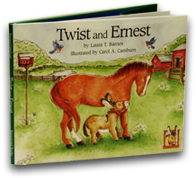 ISBN 978-0-9674681-0-5
32 pages
View other titles