Teeny Tiny Ernest
Ernest didn't like being so small.
He kept waiting for the day that he would grow up to be big and tall.
But he never did.
Ernest's amusing antics at trying to look taller to impress his friends turn into an inspiring tale of self-realization and true happiness as Ernest confronts - and overcomes - his sadness at being so small.
With the help of his friends, Ernest finally realizes that who you really are comes from the inside. Have fun looking for the bumblebee hidden on every page.
"The animals relay the age-old message - Size doesn't matter. It's who you are that matters...the illustrations assign plenty of personality to the barnyard animals. Both the story and the illustrations have a light, airy feel to them. Children will enjoy reading and listening to this book."
-School Library Journal
"...Ernest looks like a huggable stuffed animal."
-American Library Association, Booklist
"...if Ernest had grown bigger, we wouldn't have this inspiring tale. Ernest finally realizes that who you are comes from the inside."
-metroparent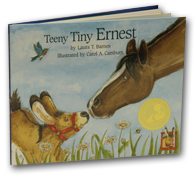 ISBN 978-0-9674681-1-2
32 pages
View other titles