Meet Ernest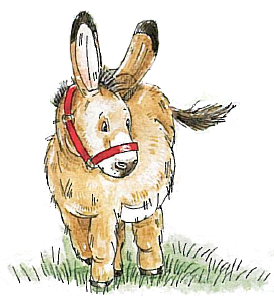 Hi, I'm Ernest.
I'm not just any donkey, I'm a miniature donkey. I'm smaller than most of my friends. Everyone thinks I'm cute! They always want to pet me and feed me carrots. Yea for me!
I've lived at the Barnesyard farm for many years. I've been here longer than all the other animals. My home has a beautiful green pasture, a pond and a stream. We have lots of trees where I can take long naps in the shade. I also have a stable where I can eat my grain and hay. I stay in my stable when the weather is bad.
I hope you like my stories. Please e-mail me. Ask me questions or tell me about yourself.
I hope that we become friends.