Ernest and Elston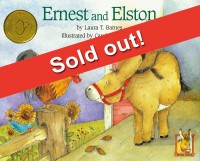 The rooster didn't want the animals to be mad.
He wanted them to like him.
He hid his beak in his feathers and huddled in the corner.
Elston, the rooster, assumes the other animals don't like him because he wakes them up every morning. Ernest tries to convince his friend otherwise, but Elston decides that he no longer wants to be a rooster.
This funny adventure demonstrates what can go wrong when you try to be something you're not. The barnyard animals soon discover that their differences are precisely what make them so special. Have fun looking for the little dragonfly on every page.
"Whimsical water-and-ink illustrations capture the longing of the rooster and the steadfastness of his friend . . . reassure(s) children that their differences are what make them special."
Sally R. Dow, School Library Journal
". . . the animals are charming . . . it's obvious that Barnes really understands her animals. Illustrator Carol Camburn does a fabulous job of capturing the animals' personalities in her wonderful watercolor illustrations. The story teaches a valuable lesson about the importance of being different, without being preachy. I am adding Ernest and company to my list of books to give to friends with small children."
Tracy McKenna, The Equiery, December 2005, Lisbon MD
". . . this endearing tale teaches children about celebrating their differences and being themselves."
FamilyCorner.com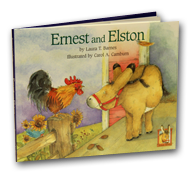 ISBN 978-0-9674681-6-7
32 pages
View other titles