Ernest's Special Christmas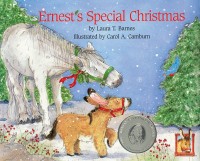 The snow kept falling.
Ernest couldn't see much.
Most importantly, he couldn't see Chester.
As Ernest and his barnyard friends prepare to celebrate Christmas, they realize that one of them is missing. What starts as a beautiful, snowy Christmas Eve turns into a struggle to save a friend and the discovery that being together with loved ones is the most special Christmas gift of all. Have fun discovering the tiny mouse hidden on every page!
"Read of Ernest's determination...a beautiful ending makes this a Christmas treasure for young and old."
-The Fairfax Chief
"[A] story that children will love and...ask to read again and again."
-The Star
"Christmas glory unfolds page by page...It's a book that will warm your heart on the coldest of winter evenings."
-The Scotch Plains-Fanwood Times
"Christmas tale helps make the holidays a magical reality for children...sends a meaningful message about Christmas, for all faiths and beliefs."
-"Kids' Home Library" Copley News Service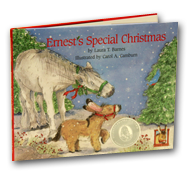 ISBN 978-0-9674681-3-6
36 pages
View other titles