School Visits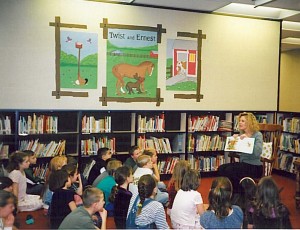 A student's time with a visiting author can be fun and educational.

One of the greatest rewards of being an author is watching the reactions that children have when I read and discuss my stories with them.  Perhaps because the characters in my books are based on the real life animals that live on my farm, children seem to embrace them and readily relate to their struggles and victories.
Itinerary
A unique opportunity for children to learn how true stories and real-life animals have become the inspiration for the Ernest Series®.
Students (and teachers!) will have the opportunity to:
Learn how the real-life story relates to creation of each book
Discuss the meaning and message of the stories with the author
Relate important life-lessons to their world
Discover how easy writing can be
Learn how a book is made
Ask questions
Excellent Teacher's Aid and Discussion Starters
Twist and Ernest
ISBN 978-0-9674681-0-5
An endearing tale about not judging others by appearance.
Teeny Tiny Ernest
ISBN 978-0-9674681-1-2
A special story about self-acceptance.
Ernest and the Big Itch
ISBN 978-0-9674681-2-9
A fun tale based on resolving differences.
Ernest's Special Christmas
ISBN 978-0-9674681-3-6
Being together with loved ones is the best gift of all.
Ernest & Elston
ISBN 978-0-9674681-6-7
Discover that differences are precisely what make us special.
Preparation
Read the books to the students.
Make copies of the coloring pages we provide and distribute them to the students.  Students will have fun coloring while familiarizing themselves with the characters.
Lesson plans and course curriculums can be generated around titles.
Announce upcoming visit. "A Note to Parents" flyer (customized for your school), will explain the visit to parents and offer the opportunity to purchase personalized, autographed copies of the books.
Writing Workshop Story Web curriculum also available.  See Story Web section.
Fees
$800 for a three-hour visit, $200 for each additional hour, plus $50/hr travel time
Typically meet with 50 to 100 students for 50 minutes at a time
Visits by illustrator Carol A. Camburn also available
Contact